Wednesday's incident occurred when the packed fishing boat ran into rough weather about 15 miles (25km) from Libya's coast.
A distress call was picked up in Sicily and one of the first ships on the scene was an Irish navy vessel, the LE Niamh. But as she launched her boats, the migrants apparently moved to one side of the fishing boat, causing it to capsize.
At least three other ships and three helicopters were reported to have arrived in the area shortly afterwards.
'Capsized very fast'
Cmdr Filippo Marini of the Italian coast guard said the rescue operation was still ongoing on Wednesday evening and involved seven ships.
He said survivors had indicated that between 400 and 600 people were on board the boat when it capsized.
Melissa Fleming, a UN refugee agency (UNHCR) spokeswoman, said about 100 people are thought to have been travelling in the boat's hull at the time, adding: "The boat capsized very fast".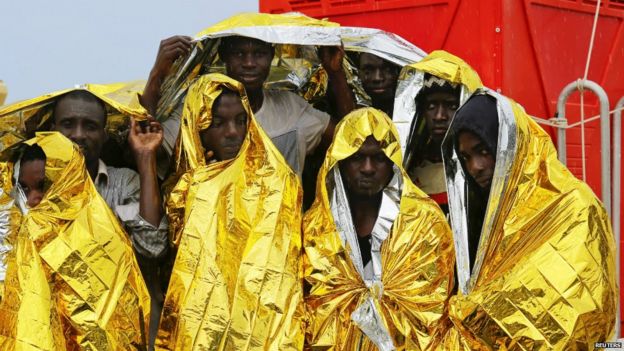 The Mediterranean Sea is the world's most deadly border area for migrants.
In April, a fishing boat carrying about 800 migrants sank off the coast of Libya in what the UN called the deadliest incident in the Mediterranean ever recorded.
EU leaders agreed to increase spending on its search and rescue operation in the region after that incident but smugglers continue to send desperate migrants on the dangerous journey.
Earlier this week, the IOM warned that the number of migrants attempting to make the crossing is much higher than in the same period last year.
"It is unacceptable that in the 21st Century people fleeing from conflict, persecutions, misery and land degradation must endure such terrible experiences […] and then die on Europe's doorstep," IOM director general William Lacy Swing said in a statement.
Use Facebook to Comment on this Post